By Angela Nolan / January 22, 2013 / Press Release
If you want to get your home SOLD, LIST WITH RE/MAX ESCARPMENT!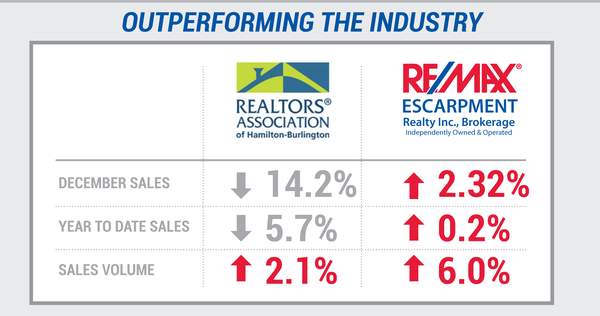 The average home price was up in December but sales and listings for the month were down from the year before, according to numbers released by the Realtors Association of Hamilton-Burlington Monday.
The average sale price in the two cities was up 6.5 per cent over December 2011 but the sales of residential properties were down 14.2 per cent.
The biggest drop came in condo sales, which fell 23.2 per cent.
"The number of sales in December was down not only in comparison to the previous year's December sales but also when compared to December sales over the last decade or so," said RAHB CEO Ross Godsoe.
"On average, over the last 10 years, December sales are usually closer to 630 units."
Instead, there were 452 homes sold last month.
Listings were also significantly lower. Residential listings fell by 10.7 per cent over the year before and the end of month listing inventory was lower by 15.6 per cent.
In Hamilton, residential sales were down 16.3 per cent (410 to 343) and listings were off almost 17 per cent (390 to 324). The average price was up just over 4 per cent to $281,643.
Burlington's sales were down 18.7 per cent (134 to 109) and listings fell 14.1 per cent (99 to 85). The average home price climbed 9 per cent to $449,751.
RAHB president Bruce Moran said a positive indicator for the month was that the average number of days on the market dropped from 58 days to 55 days in December for freehold properties and fell from 60 days to 52 days for condos.
But he cautioned against reading much into December's figures because the numbers are volatile thanks to the effects of Christmas and the weather. The month is typically one of the slower for sales and Moran says it rarely indicates anything about what the next year will bring.
"December is tough to gauge anything against. It's the toughest month to say anything about."
RAHB is expecting to release its 2013 forecast in the next couple of weeks.
Moran says he believes there is growing interest in Hamilton, especially among those in Toronto.
"There is a lot of activity and a lot of development because people are seeing value in Hamilton. Our image is better."